6. July 2021 Democracy
Stop autocratic politics in Europe!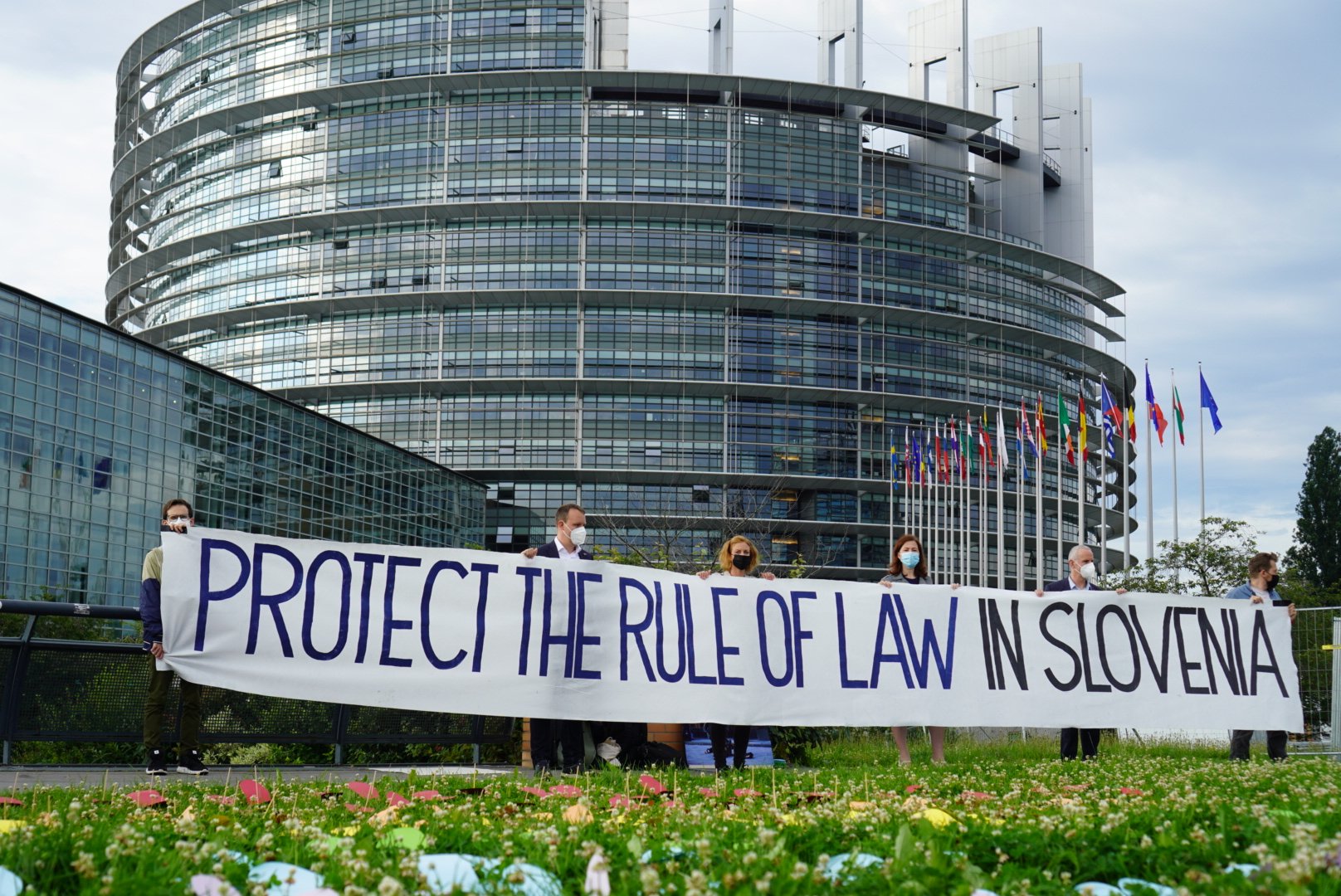 With Janez Jansa, a Prime Minister has taken over the Presidency of the Council of the EU who openly attacks free press and civil society in Slovenia. While presenting his political priorities for the next six months at the European Parliament, he refrained from provocations today. According to Jansa, Slovenia wants to coordinate the fight against the ramifications of the pandemic, expand EU accession prospects for the countries of the Western Balkans and push forward the Conference on the Future of Europe. In a press conference with Commission President Ursula von der Leyen, he emphasised the rule of law and media freedom and vowed to make up for the pending nomination of prosecutors for the European Public Prosecutor's Office by autumn.
To prevent Jansa from being able to shine on the European stage unchallenged, Members of the Greens, together with civil society activists from Slovenia, protested today in Strasbourg against autocratic tendencies in his politics. I had met Jasa Jenull and Tea Jarc on my recent trip to Slovenia and was very impressed by their work. Our message today: "Protect the Rule of Law in Slovenia!"
Daniel Freund (Greens), Member of the European Parliament, comments:
"Janez Jansa's tame performance in Strasbourg should not hide the fact that he has put journalists and civil society in Slovenia in the crosshairs. The grand stage of the Presidency of the Council of the EU must not serve as a cover for Jansa's dubious policies in Slovenia. The European Union must continue to clearly show that European values are not negotiable. By not nominating European public prosecutors, Jansa is de facto creating a legal vacuum in the allocation of EU funds. The EU Commission must take action and freeze the payment of EU funds to Ljubljana. It is not acceptable that Janez Jansa prevents independently selected prosecutors from being appointed on the basis of a personal vendetta and replaces them with candidates he likes! Orban's friend Jansa is likely to further delay sanction proceedings under the Rule of Law Mechanism against Hungary. Here, too, the EU Commission must finally act decisively and stop its inaction".
Jaša Jenull, artist and protest activist &
Tea Jarc, trade unionist and protest activist, comment
"The situation in Slovenia is getting worse with each week! Separation of powers, democracy, freedom of speech, freedom of the press and of assembly are being systematically dismantled by Janez Janša and his government. With his totalitarian policies, attacks on democratic principles, lack of civic dialogue and divisive hate speech, Slovenia is on the fast track towards Hungary and Poland, violating human rights and ignoring European values."
"As Slovenian citizens we expect EU institutions and representatives to defend European values and enforce the rule of law! European decision makers should not be fooled by diplomatic cliches and photo opportunities during the Slovenian EU presidency, but should judge for themselves the concrete actions of Janez Janša and his government both at the national and European level and stop the spread of totalitarianism across Europe before it is too late."